Currents
I started the painting "Currents" on April 17th, so I worked on this one almost two months. I didn't have my entire focus on it all the time and I even put it aside for two weeks or so but still, what remains is more than a month of work – night shifts, it is a 100% night painting – if you know what I mean – a LOT of work – 080627 Intense took a about a month and I thought THAT was a challenge.
I am very proud. I finished it although it turned out to be more than just a painting. I mean, the process of painting wasn't the main issue in the end. The fact that it was such a long process made it a challenge of a different kind. I just couldn't leave it unfinished, though. I can't leave things unfinished that I have my heart in. Who could?
I knew the title of the painting from early on which is very unusual – it sometimes takes me months to come up with the names of paintings ( after I got some distance ). This time I knew it after I decided about the colors. It is a very personal painting and a still of where I was in life during those two months. I will share the story with the lucky one who will own it one day, if he or she would like to listen – it is a very good story – a story of growth.
For now, it is done and got the spot over the couch, what is like the winners podium for my paintings and replaced 080602 A Passage that reigned for a year. And it fits better too. The magenta in it goes so well with the dark brown leather.
AAAAAnd. It was the first painting that I signed with my name! I would usually just note the date of completion and the title on the top right of the canvas frame but this time I signed it good visible with my last name on the front right bottom – a totally new experience for me and a partially return of the "ö" back into my life.
A truly BIG painting by all means. Big Time.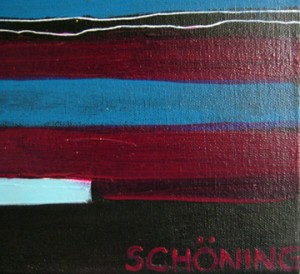 I have quite a documentation too – check it out below. I started by asking my people what they would like to see in it and it was a great help to find my way through the long creation progress. Thank you!
Enjoy and CARPE NOCTEM!